It is critical for any company to expand its software capabilities. Many organizations may provide tech services, but Smart IT provides a creative business approach that helps businesses to generate income.
About Smart IT
Smart IT is a company offering Software Development services, which is located in the United States. Founded in 2011, the company is devoted to offering full-cycle services that bring profit to its clients' businesses. The main aim of the firm has always been offering scalable and customized services based on the client's niche. It assists in automating existing processes and prototyping new solutions. Through this, the learned team converts their clients' ideas into market-ready solutions.
GoodFirms Process
GoodFirms is an online platform that connects service seekers and companies. The firms' ranks on the website are based on extensive research and parameters such as Quality, Reliability, and Ability. These parameters help seekers find reliable technology partners such as Smart IT.
GoodFirms evaluated Smart IT through its selection process. As a result, it was found the firm is doing a magnificent job in the technology area. Thus, it has acquired a good ranking among other top-notch companies listed on the website.
Delivering Full-Cycle Software Development
Today, it is difficult to imagine a business model without software. Technology brings business to new heights, allowing it to be accessible from anywhere. Helping clients to improve sales and services, along with bringing positive feedback, Smart IT is known for making business operations easier. The professionals of the firm have the knowledge to implement on-the-go software testing along with software integration.
Due to the strong team's excellent track record of delivering software development solutions, the company has been ranked among the best software development houses on GoodFirms.
Their team is very capable when it comes to new technology and making it work for their clients' business. By creating customized solutions, the firm increases the productivity and profitability of its client's business.A 5-Star review by Wesley Rozhnov, Founder/CEO at Cannaberry.com, shows Smart IT deserve its praise. According to the company's website, Mr. Rozhnov and Smart IT have since formed a fruitful partnership for new software ventures.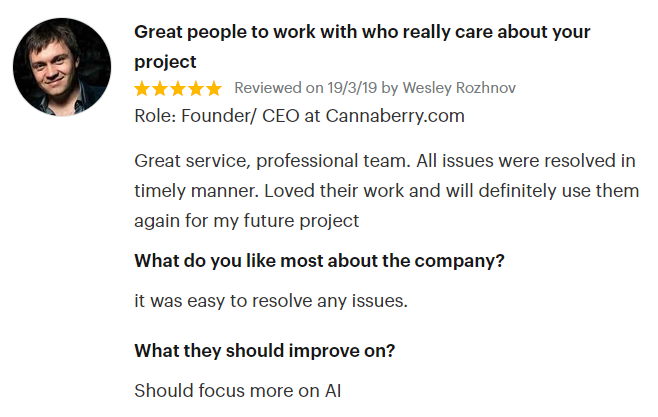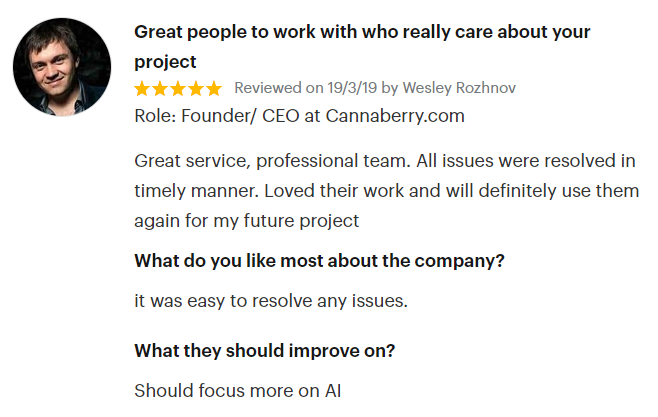 By having vast-domain experience the firm has come a long way in becoming the top choice for software-related services, acquiring a position among the top software companies on GoodFirms.
Delivering Quality Assured QA Testing
Quality assurance and testing are mission-critical to any software development company. It is executed to make sure all the bugs are appended before the software becomes available to the end user. The QA team of Smart IT aims to rid software of bugs to ensure that software solutions live up to the high standards of the company's clients.
Smart IT has diverse expertise in the software development process from which a customer will surely benefit. Software testing saves software solutions from unstable commits and software misuse. The QA testing team understands the weight of all components required in the software development process, doing an efficient job at consequently probing the code for errors.
Enabling clients to compete in the long run, the professional team implements a comprehensive approach to fully understand the client's requirements. This has been a contributing factor to securing company's place among the top QA testing companies on GoodFirms.
Delivering Remarkable IoT Solutions
The world is dominated by numerous digital technologies that have given companies a platform to outshine among their competitors. Among them, IoT has impeccably integrated human communication like never before. The integration of IoT has taken over the manual process of generating business insights. Considering their background and current market demand for IoT developers, Smart IT is ready to offer IoT integration solutions to its clients.
Owing to their continuous effort and streamlining business operations the company ranks on the list of best internet of things companies at GoodFirms.
About GoodFirms
Washington, D.C. based GoodFirms is a maverick B2B Research and Reviews Company that helps in finding Software Development, QA testing, and IoT Services firms rendering the best services to its customers. GoodFirms' extensive research process ranks the companies, boosts their online reputation, and helps service seekers pick the right technology partner that meets their business needs.