Pardon the tautology, but starting a startup is the hardest part about running your business because of, well, starting… No matter how tough the going might eventually get, it is the beginning of your startup journey that is the most difficult.
As a company that runs its own spinoff startups, Smart IT is quite conscious about bringing a new idea to life. With that in mind, we would like to share our experience (and wisdom) to make starting your startup a little easier.
Starting a startup: step by step guide
So you have a great startup idea, you think it will blow everyone's minds and you can make it happen tomorrow. That is usually how it goes, but let's turn the excitement down a notch and work everything backwards. Here are the steps you should begin with to launch a startup.
Understand the problem you want to solve
In the digital world, software solutions, products and services are often built to solve concrete user problems. This is why instead of providing a solution to a solve a hypothetical problem, successful startups dwell on real-life problems and user needs.
Engineering a software product any other way just does not make sense. Startups that start their journey this way run the probable risk of selling to a non-existent market.
Speaking of markets.
Study the market
Do it. Do not think you can glide over studying the market. You do not always have to throw stacks of cash at preliminary market research either. As a founder, this could be something you do on your own.
When you get down to it, ask yourself the following questions:
Who is your target audience?
Who is your ideal customer?
What problem do they have?
How are they currently solving that problem?
What do potential users say?
How could your product improve the situation?
What are market experts saying?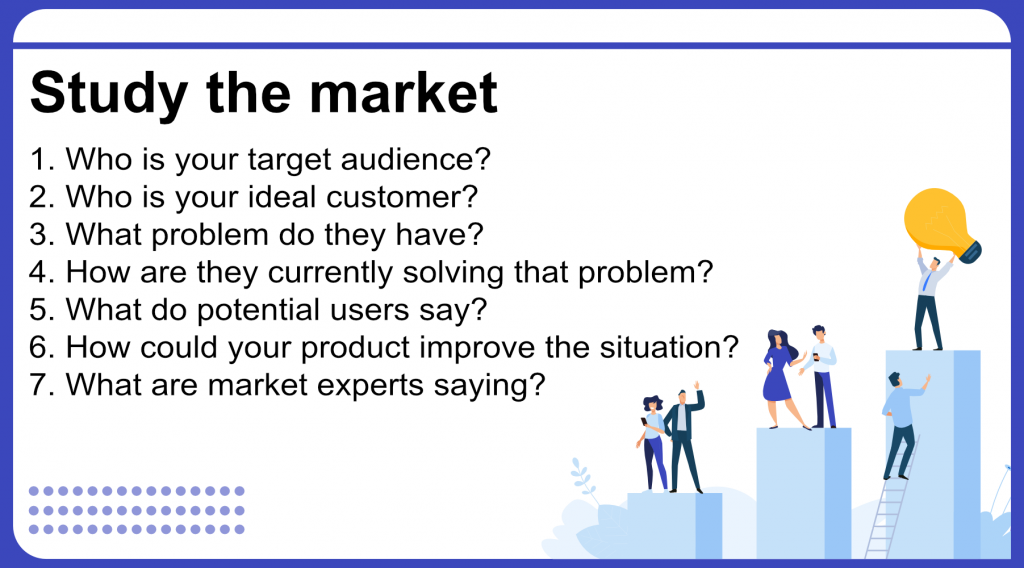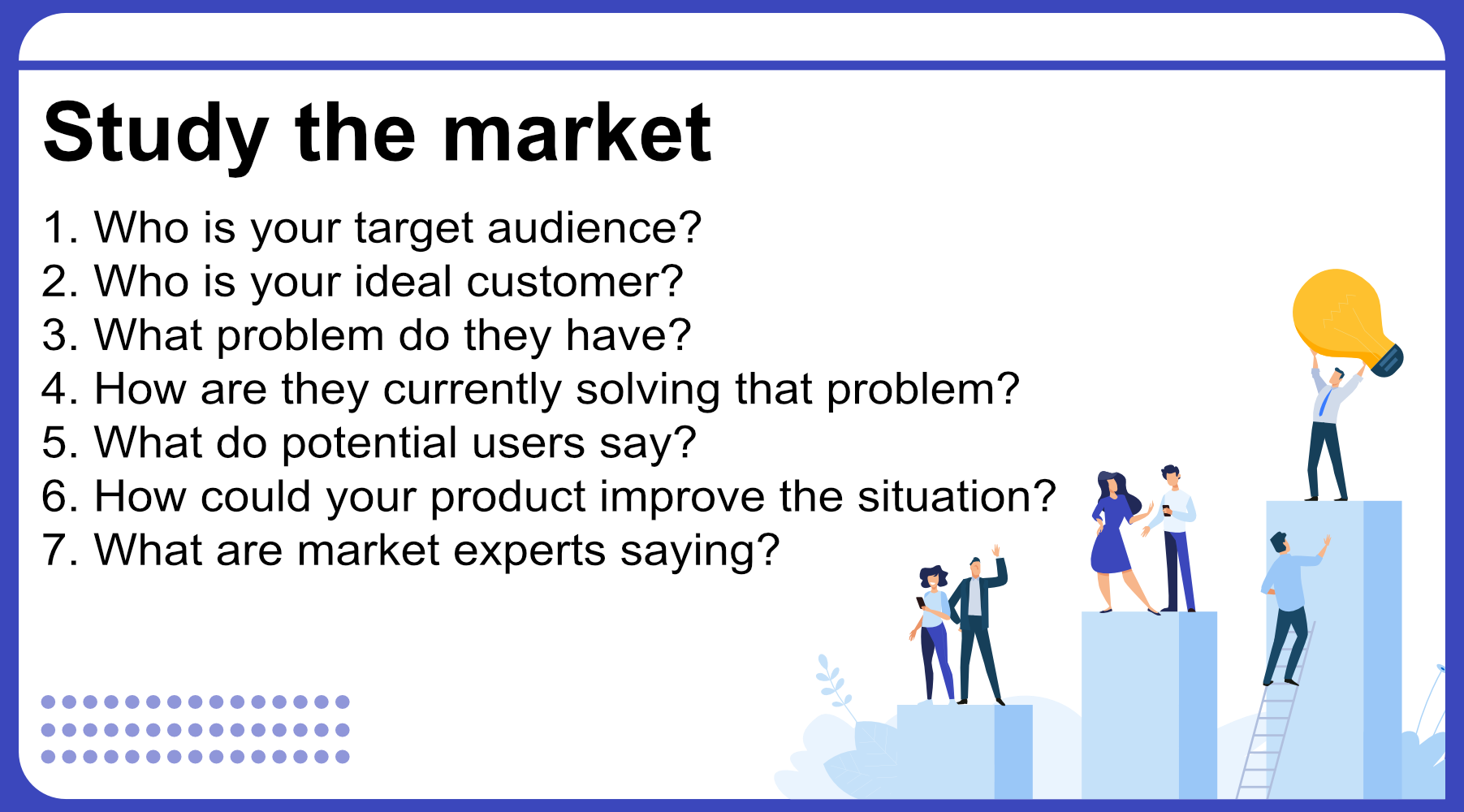 If after syphoning information on the above points, you can build a list of hard answers – you are on the right track.
At the end of the day, if your startup idea solves a problem that is already being solved differently, you can always pick out what could be done better. If it is not, you should be asking yourself what your solution will bring to the table.
Make a business plan
Making a clear business plan will be one of your biggest challenges when starting a startup. Writing out a business plan is usually a time-consuming process and requires a lot of foresight and thinking ahead.
Incidentally, this will also be one of the most important steps on the way to creating a successful startup. Make sure that your business plan includes the following:
Executive summary. This is where you state your mission and goals, mention your target audience, explain how your product or software solution solves your customer's problem based on market observations and research. Do not go all out in this paragraph, it is only a summary.
Investment strategy. Give a brief explanation as to why the capitalization strategy you have picked will work for your startup.
Product description. Include your unique selling point and initial product roadmap.
Promotion strategy. How will you market your startup and product? Give a few pointers as to how you will promote the product and take care of marketing.
Balance sheet. Essentially this is a description of everything you will need and the types of funds you will require to get it. From company assets and offices to employees and salaries.
Sales forecast and P&L sheet. Without going into detailed calculations, make a rough financial plan to show how much you need to start a startup. Make sure to show you have planned your finances well beyond the first 3 months of operation.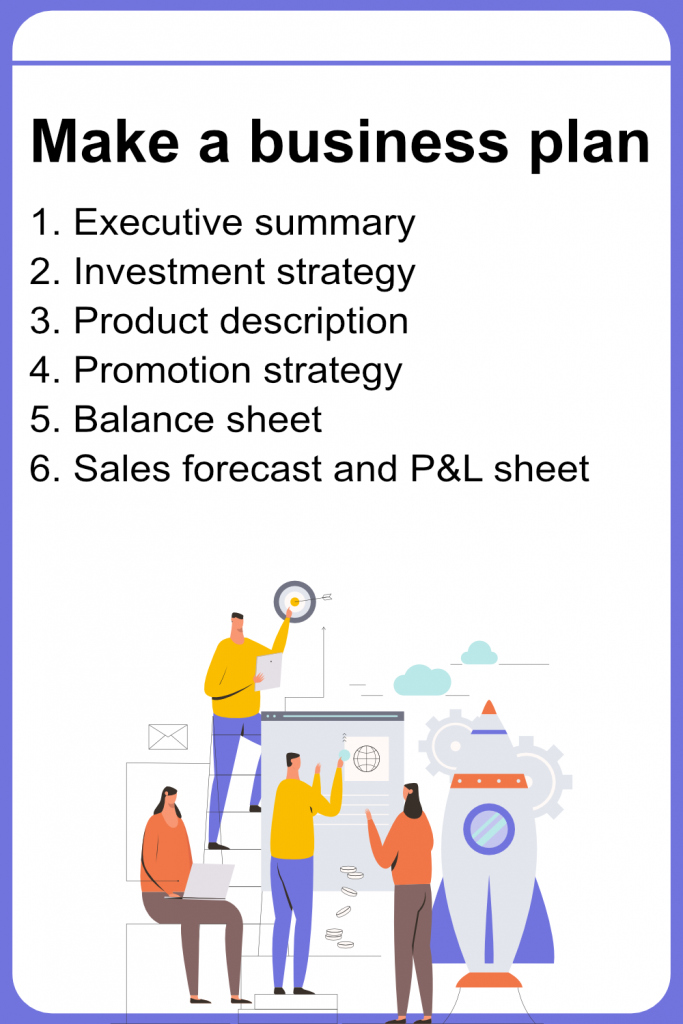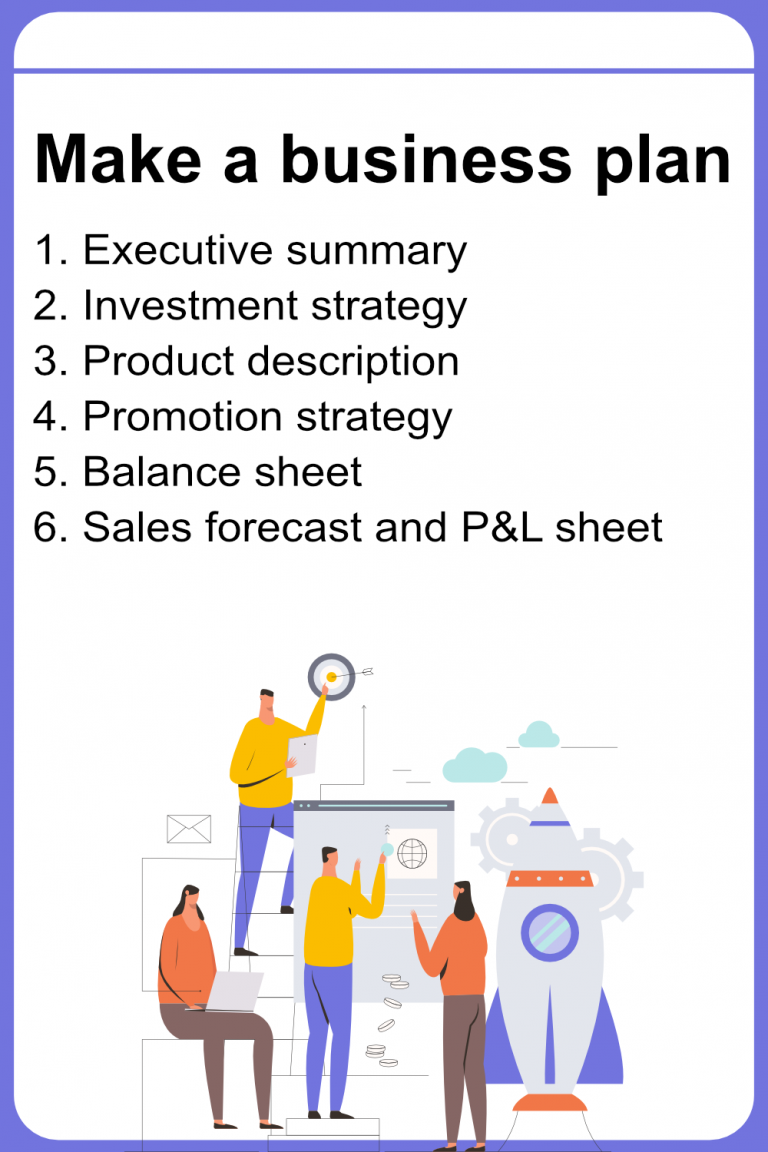 Develop a great product concept
If you have not thought this through just yet, now is the time to do so. Because you cannot, and this is not stressed enough, sell on positive vibes alone.
Drafting a product concept and business plan can happen concurrently. The difference between the two is that the product concept will look at your offering through the eyes of your potential customer and how well it addresses their pain points.
Your concept can also go into detail on some of the features your product will boast and delve into product use cases.
Create an MVP
If you are the kind of founder, who wants to be armed with knowledge before they jump into startup arena pit, consider building a Minimum Viable Product first. Also referred to as an MVP, this version of your product tests out product-market fit.
An MVP fits between a prototype and the final product.
Idea>Pretotype>Prototype>MVP>Product
Once the first set of users get their hands on the MVP, you will have a better understanding of what needs improving and what needs to be abandoned altogether.
It is a worthwhile practice as it can save you time and money having to deal with product changes once your startup is up and running.
Secure investors and funding
Provided you already know how to capitalize your startup, this is the step where you make the bold move to secure the funds.
How does one start a startup with no money? If you are a startup founder in most cases this means taking out a loan, finding an investor or bootstrapping it. Each capitalization approach has its advantages and disadvantages and it will be up to you to decide on the one that works best for your startup.
As a rule, at this stage you will be expected to speak less about the product vision, and more about the numbers. Your preliminary market research and business plan will both come in handy. Especially if you are seeking an angel investor or taking out a bank loan to found your startup.
Partner up
Guess what, you do not have to go the startup founder journey alone. Most startups were founded by several people. Each co-founder usually comes with their own skillset and strengths.
Co-founders do not have to be progenitors of the original idea. Some can even come on board as part-time executives to help in the early startup phases.This was the case with Smart IT's own Alex Kulitski, serving as co-founder and chief technology officer for a telemedicine startup.
Even investors, for the most part, can offer insightful details into running a startup. Most will willingly share a lifetime of experience with those willing to listen and ask the right questions.
You will not go amiss to invite a co-founder to help you navigate the startup journey.
Final tip
Prepare for the unforeseen when you embark on founding a startup business. If you have already taken the first steps from this list, then you are way ahead of the curve.
If there is a parting tip we would like to share, it is to surround yourself with talented people. A skilled crew will help weather any storm and will offer counsel on any matter. Always have a team to fall back on, come what may.
First and foremost this is a journey of discovery. Just bear in mind it is not one you have to go through alone.