Since the ecommerce market is expanding by 18% annually after 2020, market players face increasing competition. This trend induces companies to seek a forward-looking technology backup.
In recent years, the ecommerce market has been reshaped by SaaS technologies, exhibiting a CAGR of 12,5%. All the reasons boil down to one major factor – greater flexibility. In contrast to the traditional on-site software, SaaS systems can be purchased on a subscription basis. Because of that companies can confide development and maintenance to the vendor, reducing their own costs.
For both ecommerce and SaaS businesses seeking improvement, we recommend looking at the outstanding tools listed below. As an ecommerce business implies a multistage cycle, we will focus on 7 most demanded fields:
1 – Site-building
2 – Inventory
3 – Marketplace
4 – Shipping
5 – Dropshipping
6 – Pricing
7 – Customers' reviews
Let's take a look at some of the best SaaS tools related to these categories. You will also get to know the features that make solutions so reputable, as well as some suggestions for improvement.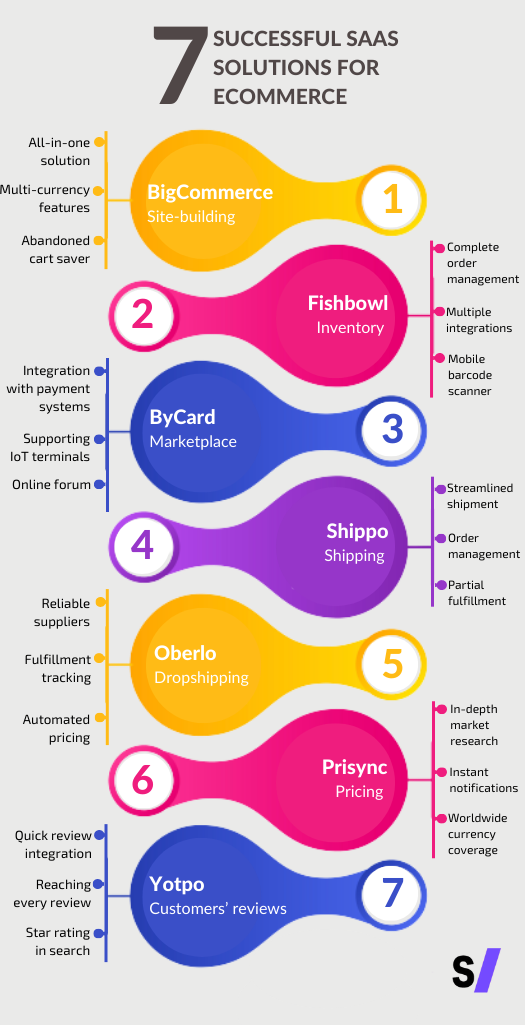 Site-building with BigCommerce
BigCommerce is one of the best-known ecommerce SaaS platforms. The solution helps small and medium-sized businesses to build an online storefront from scratch. The company has over 100+ app integrations and serves over 60,000+ stores in 100+ countries.
All-in-one solution
Everything that an online shop needs is provided by the platform. Within the BigCommerce website, users are able to manage a lot of functions: inventory, multi-channel retailing, online payments, SEO, analytics, and automated email campaigns.
Multi-currency features
The features allow international sellers to tailor pricing to customers' local currency. With these tools, merchants can natively transact in over 100 currencies using integrations with some of the most popular payment providers, for instance, PayPal and Stripe.
Abandoned cart saver
The feature allows you to contact clients and remind them what they've left behind in their shopping carts. Using this tool, you can send up to three automated emails to website visitors.
At the same time, there are certain cons. First, the Page Builder is more difficult and less functional than the editing tools of other page designers. The design adjustment features don't always work as expected. When you try creating an in-build blog it will not look as professional as the main page of the store.
Generally, blogging in BigCommers has a number of limitations. Customers cannot use buttons and modules to add CTAs (call to action) for CRO (conversion rate optimization) in blog posts.
Another flaw is harm to SEO results. BigCommerce mounts the blog on a subdomain in the following way – blog.bigcommerce domain.com. That makes Google treat subdomains as independent entities. As a result, the blog's organic value would not help raise the authority of the domain.
Inventory control can also be improved. Instead of having its own dedicated location, it is accessed via each product's screen. It affects users' productivity when they deal with a large number of goods, having a high turnover.
Inventory with Fishbowl
The inventory software Fishbowl supports manufacturers, distributors, and warehouse owners for 20 years. Fishbowl is definitely worth attention as a trusted partner of the U.S. Army and General Electric.
Last year, the company released the SaaS platform Fishbowl Online. The tool inherited all the powerful features from its server-based versions. One of the main benefits is that it allows to save on the storage of extensive inventory data. However, it is still the first year after the launch. Thus, we expect the advancement of the product after trial and error.
Complete order management
Fishbowl consolidates the full range of inventory functions including manufacturing receipts, purchase orders, and other transactions. In addition, the software helps identify necessary items by serial, batch, lot numbers, expiration dates, and more.
Multiple integrations
The platform easily integrates with dozens of software that automate different ecommerce processes like shippers (for instance, Startrack, Fastway, DHLand) and online shopping charts (for example, Shopify, BigCommerce, Magento).
Mobile barcode scanner
Fishbowl Online Mobile app gives you additional mobility. Using it on any mobile device, supply chain managers can scan barcodes on products without having to go back to a computer.
However, the reporting capabilities can be improved. Even though the tool provides multiple reports to choose from, they seem to be quite basic and limited. For example, a user wishes to obtain information about a product of more than one size. In the listing, they want to select as many products as possible. However, the tool enables the user to select just one at a time. If you need detailed or custom reports, you need to purchase them individually.
Secondly, Fishbowl functionality looks abundant for midsize manufacturers and wholesalers. Meanwhile, the other category of customers, represented by small ecommerce stores, might perceive the system as unwieldy. We suggest that small online retail businesses consider simpler inventory management software.
Marketplace with ByCard 
While the ecommerce market is divided by monopolists Amazon, Walmart, and eBay, we would recommend you niche down. Alongside product marketplaces, there are local service marketplaces. While the event industry recovers from the COVID-19 outbreak, an online ticket platform is a viable option.
The cloud platform ByCard, designed by Smart IT, is one of the major online ticketing platforms in Eastern Europe. The solution helps various providers sell tickets to movies, concerts, festivals, and sports events. Customers can print their admission tickets at ticket terminals located at all major arts and culture venues throughout the country.
Integration with payment systems
The cloud-based marketplace allows users both to book a seat at the venue seating layout and to purchase a ticket. ByCard set up a payment gateway that connected to a number of local payment providers.
Supporting IoT terminals
The solution is synchronized with ticket machines located at event venues. Through these terminals, visitors can access their accounts and print tickets.
Online forum
ByCard visitors are encouraged to share their experiences and opinions about events they attended, which helps build a community around the online portal.
The development team of ByCard curates SaaS products in different industries. Inspired by some projects, the group plans to add cross-industry features to the tool to increase user engagement. Meanwhile, this is not a finishing touch but another level of improvement.
Shipping with Shippo
Shippo is a software as a service (SaaS) platform multi-channel shipping solution. According to GetApp ranking, Shippo stands on a par with leading e-commerce shipping platforms. The platform integrates with shipping carriers, shopping carts, and ecommerce platforms. It consolidates order information from over 70 marketplaces and selling channels.
Streamlined shipment
With auto-generated customs forms and commercial invoices, the platform simplifies international shipping.
Order management
Shippo tracks order information and data from each transaction. This means that you can calculate the expected time of arrival for a package.
Partial fulfillment
When it comes to managing backordered items and inventory in different warehouses, the platform allows customers to split an order into multiple shipments.
However, on the customer review sites, Shippo users complained about customer service. They state it is difficult to reach while live chat is available from time to time.
Dropshipping with Oberlo
This tool is designed for those ecommerce businesses that don't hold any inventory. Through Oberlo, such merchants, or dropshippers, import inventory online from suppliers and sell it directly on their online store. Oberlo dropshipping offers a direct integration between highly demanded ecommerce platforms such as Shopify and AliExpress. The server can be compared with a management team that analyzes the landscape of the Chinese factory market and finds the best products.
Reliable suppliers
Oberlo checks suppliers' operations, warehouses, and business documents. So when ecommerce entrepreneurs do business with them, they can make sure that they are sourcing items from legit vendors.
Tracking order fulfillment
The app has an integrated order tracking system that lets users know where an order is at any given time.
Automated pricing
When a seller links an AliExpress account with Oberlo, the system automatically imports pricing from AliExpress.
On the other hand, there is room for improvement. The solution doesn't access standalone ecommerce websites, except Shopify and AliExpress. In addition, the platform does not offer customizable packaging or invoices.
Pricing with Prisync
In ecommerce, pricing is one of the most crucial aspects that impact sales growth and margins. The dedicated software Prisync was developed to address these issues. The tool tracks competitors' pricing and displays it all on a single dashboard. The Prisync makes it easy to adjust to market price changes and act promptly. More than 700 international brands and stores rely on Picync for their ecommerce needs.
In-depth market research
The solution enables upgrade C-level analysis by building a performance overview based on different categories or brands in a given industry.
Instant notifications
Prisync sends you daily emails showing exactly what your closest competitors are offering – and at what prices.
Worldwide currency coverage
With the app, it is easy to compare prices to competitors no matter where they are located. The solution converts prices from 44 currencies used in 60 countries.
Even though the app generally works correctly, sometimes Prisync shows the link to a competitor's product is broken, even if it is not. Also, it might be time-consuming to enter all products into the tool.
Customers' reviews with Yotpo
Yotpo, an ecommerce marketing platform, is a powerful tool for social proof. It helps brands showcase customer reviews, ratings, and referrals on the online store. Yotpo integrates with everyday tools including Google, Instagram, top ecommerce platforms, and other solutions in the tech stack.
Quick review integration
With one click, a customer can publish a Yotpo review to a store website. It also can push the review to Twitter, and Facebook.
Reaching every review
The tool allows brands to boost brand discovery and increase traffic from search and social due to Yotpo's partnership with Google and Meta.
Star rating in search
Users can add star ratings to their products in on-site search results in order to increase revenue from the search.
Despite all the benefits of the tool, some reviews point out that Yotpo's UI isn't very user-friendly. The customers face difficulty navigating the app, integrating it with other platforms, and using features, and the process itself seems not so intuitive.
Final Thoughts
Multiple SaaS apps address the needs of ecommerce businesses. In some cases, they help bridge the gap between several ecommerce platforms like Amazon and Shopify, while in others, they help bootstrap online stores. Most solutions offer multi-channel capabilities, which means a site-building tool can also be used for both delivery and inventory management.
One thing is certain – SaaS producers invent more and more new features to satisfy customers' needs in an all-in-one solution. We suggest that both development companies and eсommerce vendors set upcoming features as early as possible, at least before their competitors do.