How do you hire a software development company that would be a reliable partner for your business? That question can get tricky, especially when there are so many options to choose from. But a great partner will help deliver your software project from initial idea to full-fledged product.
"Show me your friends and I will tell you who you are", goes the saying. The same certainly applies to software development partners too. Not only can a great software development house uphold your company's brand reputation, but also significantly improve your company's IT department.
To hopefully make things easier, we have outlined a few helpful tips for selecting a software development partner.
Tips for hiring a software development company
If you are hazy about what to look for in a software development firm, use the listed tips as a litmus paper test for your service provider. Paying attention to what your technical partner might request or how they respond will be a great sounding board for the quality of their services.
Create a list
A great place to look for software development companies are business directories. Listing platforms will often feature client reviews and company portfolios. You are likely to learn more about the company's services and how they fare in practice.
Should you be looking for a company with experience in a particular technology stack, most online directories will showcase a company's expertise in the relevant programming languages, frameworks and platforms.
Some reputable online directories to look for software development companies:
Set up a call
Given that your software development partner will not be local in most cases, it makes sense to schedule a call to get to know them better. This can help you get a feel for the people of the company and whether you can establish a good cultural fit. 
The process of arranging the call can say a lot about the company itself. It shines a light on their communication practices and level of diligence towards clients-to-be. To the extent that it is possible, do follow up the call with a face-to-face visit and survey the company headquarters.
Smart IT's client, Persona.ly, contacted over a hundred companies before hiring a development team. Their account and review of working with our software developers is available here.
Define your agenda
It is critical to outline the mission plan from the onset. The more details you can put together about your project, the easier it will be to hire a software development company. 
Define your objectives and deliverables
Set a deadline
Make a list of questions
We have already written about the full checklist on how to hire a software development company and software development related costs before.
Negotiate
If you have any prior experience in business, you will know that negotiation is key. Leave no stone unturned and make sure to speak about anything and everything that might raise a red flag.
Negotiation is not only where you ask the most pressing questions, it is also where you decide on how your partnership will be structured. This can involve picking the right pricing model or going over a draft software license agreement (SLA). 
Make sure to ask whether you should go with hiring a software developer to complement an existing team or to form a dedicated team from the ground up.
Evaluate
Remember that list of companies that meet your requirements? This is the step where you make that list shorter by weighing the pros and cons of everything you have heard up to this point.
To make finding the right software partner easier, do collect the company deck to sift through as you make the choice of who makes the cut and who does not. It is always good to have reference material when choosing a software development company.
Pass on what does not work
At the end of the day, you get to choose which company you go with. With a shortlist of a handful of companies the choice gets harder. By now you have probably established rapport with the candidates and set out a tentative roadmap.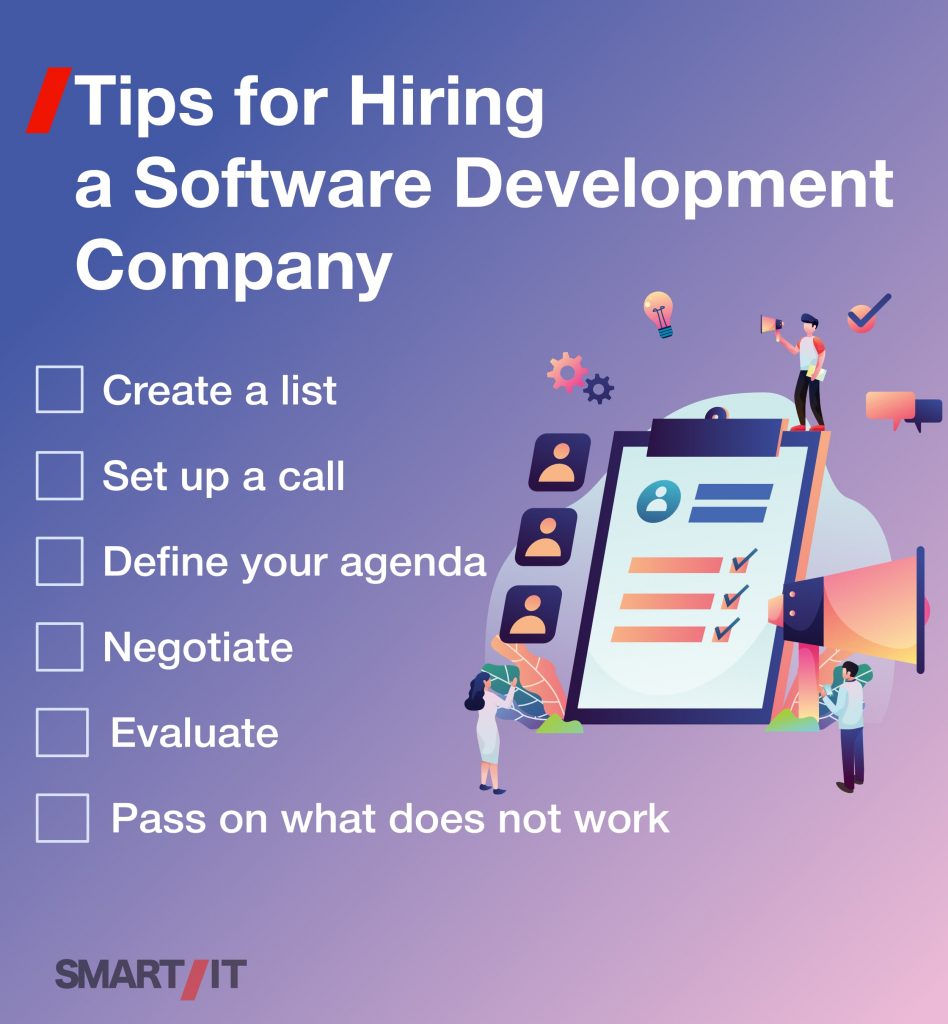 Types of software development partnerships
Software development partnerships refer to the terms agreed to when hiring a software development company. They are also called engagement models and refer to how you hire the development team and how your vendor will charge for their work.
We have covered software development engagement models extensively before, but here is a summary of the most popular ones.
Sourcing models
The sourcing business model refers to how you structure relations between multiple parties. Parties involved will be the ones responsible for the software development. In this regard, we normally distinguish between two sourcing models:
In-house (insourcing)
Outsourcing
While the first is straightforward and refers to building a software engineering team that will handle all software development and will be managed internally.
Outsourcing is the practice of contracting a third party, like Smart IT, for your software development needs.
It is important not to confuse outsourcing with offshoring. Offshoring, onshoring and nearshoring all relate to actual transfer of your business overseas, back from overseas, or not too far from your primary location respectively.
Staffing models
Will you hire a software developer, a dedicated team, or build a dedicated development center? Will your developer work as part of your in-house team or be managed by your vendor? These questions refer to what is known as the staffing model.
The most popular staffings models are:
Staff augmentation
Dedicated development team
Dedicated development center
Staff augmentation in its classical sense simply means that you pick and choose additional software engineering talent from a vendor to join your team.
A dedicated development team, on the other hand, is managed entirely by the software development company you contract.
Different to the previous point in that it caters to multiple client business units and departments is the dedicated development center.
Pricing models
As far as software vendor pricing goes, there are a number of models to choose. The most popular software development pricing models are:
Fixed cost
Time and material
Shared risk (Cost plus equity)
If you are operating on a limited budget, the fixed cost will definitely hold back expenses that were not planned for in advance.
WIth time and material pricing you will be paying by the hour for every pair of hands that you contract from your software development company.
Shared risk entails entering a joint partnership with the software developer firm holding a minority or equal stake in the success of your business. Go with this one if you need a skilled technical co-founder.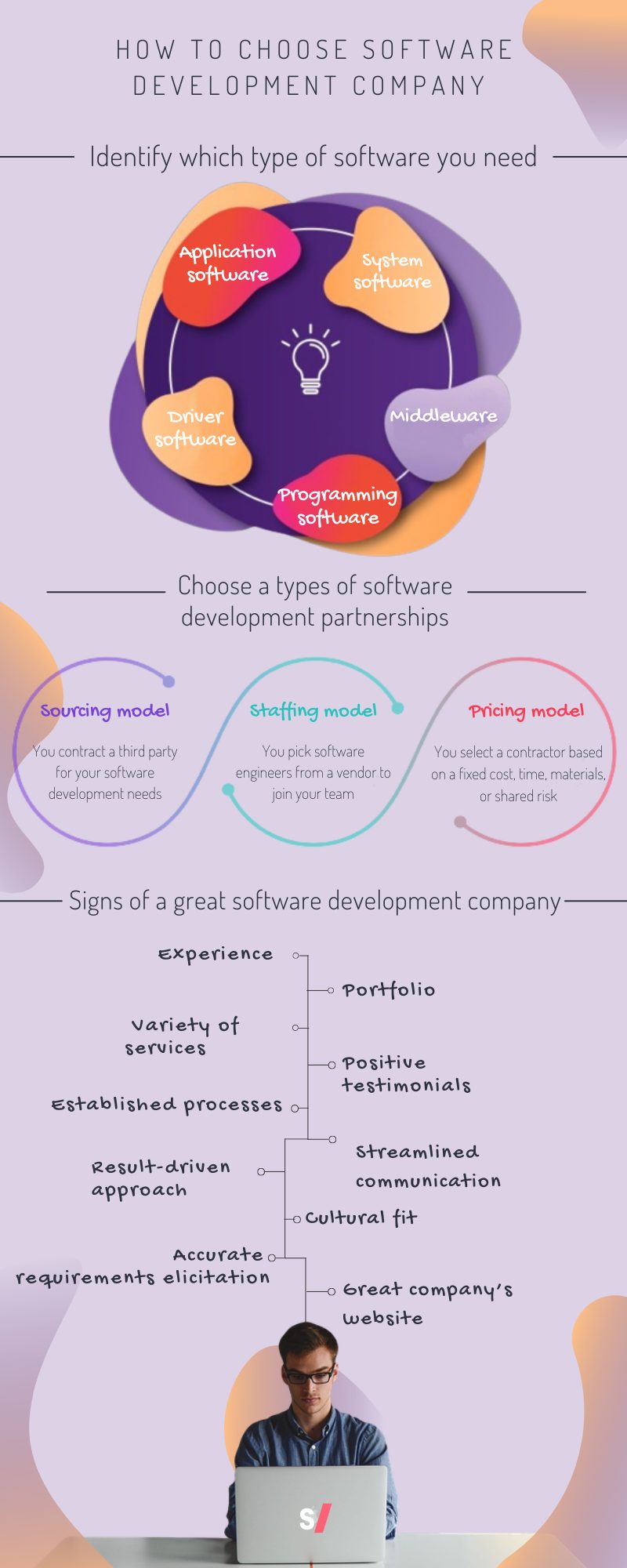 Hire a development team that works for you
At the end of the day, which software development company to hire will be your call. Whatever the requirements that guide your hiring choice, opt for a development team that has the right cultural fit and is aligned with your businesses processes.
Do not forget that communication is key, and communication must be ongoing. Pick a software developer that is ready to engage in open dialogue. And, of course, do not just go for the lowest hanging fruit in terms of pricing. 
Know that you can always back out of a bad deal. By following through the tips we have outlined and being ready from the start, you might just find a great development partner. Now that you are armed with this knowledge, we want to wish good luck in your search!