Cloud computing is one of the most significant trends in the tech industry on par with machine learning and artificial intelligence. More and more companies trust their big data to cloud providers. A growing demand has resulted in an oversupply of cloud data providers, from Microsoft and Amazon to smaller companies that deliver bespoke solutions. The variety makes entrepreneurs spend weeks choosing the most fitting cloud service. To help you select the right cloud service provider, we will break down key evaluation criteria: 
1 – Customisation 
2 – Security
3 – Total cost of ownership
4 – Timing
5 – Architecture
6 – Customer support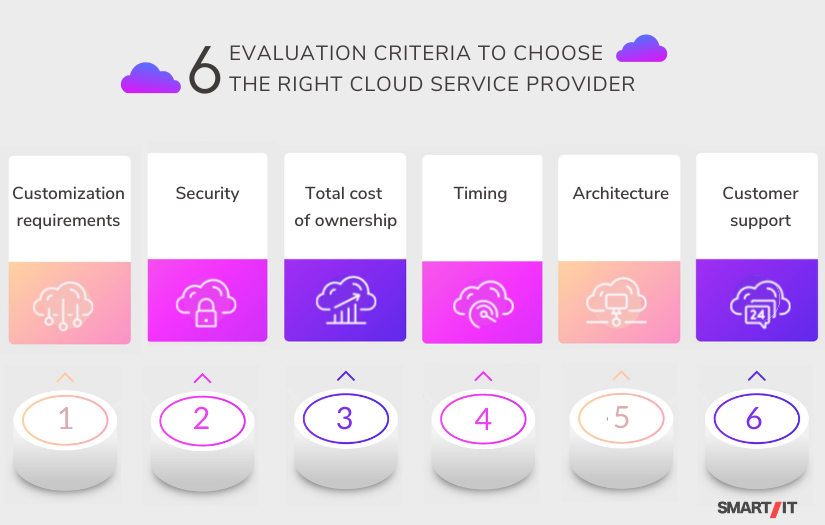 1. Customization 
When choosing a cloud solution, it is important to consider the company's own customization needs when choosing a cloud solution. 
With the help of a cloud company, it's possible to build a cloud solution from scratch aligning to each business's requirements. This type of cloud is called a private cloud. 
In such a case, the buyer has full control over cloud management, data, analytics, and security. Private clouds may be located on-site or hosted remotely by a provider.
Mostly, the private solution is used by large enterprises to support internal applications and the entire network.
If a company doesn't want to overpay for customization, the public cloud can be chosen. The main idea of the public cloud is that data sharing is managed by a third-party provider. 
The vast majority of cloud providers offer multi-tiered plans like free, business, and premium. Each of them gives you various options such as cloud data analytics. Generally, a user finds a large number of options within a modern cloud platform.The biggest cloud storage companies Amazon, Microsoft, and Google offer 100, 200, and 600 features, respectively. When using these platforms, it is easy to adjust a plan to each stage of the growing business. 
The most likely reason why companies select public clouds is that it allows them to quickly scale the amount of corporate data with the reasonable price. Therefore, this type is convenient for both large and small businesses.
A third option, a hybrid approach, means that some projects are stored in a public cloud and some data is located in a private cloud. The hybrid cloud is an ideal choice if you seek public cloud scalability and private cloud security. Likewise, the hybrid model requires the use of on-site hardware, similar to the private cloud.
2. Security
Security is the main concern in the cloud computing industry. For those companies who pay close attention to data protection, it's better to choose a private cloud. This approach is the most likely for governmental and financial institutions that aim to maximize control over data. 
At the same time, a lot of companies find public cloud services reliable as well. The top cloud computing companies Amazon Web Services (AWS) and Google Cloud Platforms base security policy on a shared responsibility model: a platform divides the areas of responsibility retained by a customer and a cloud platform. To make the selection process transparent, cloud providers often list their security features on their websites.
Another advantage of public clouds is their human capital. Big cloud vendors hire globally the most talented engineers to maintain advanced security services. As a result, public clouds frequently update their tools to withstand new types of cyber threats.

At any rate, whether you choose a private or a public solution, it is better to develop a disaster recovery plan.
3. Total cost of ownership
The total cost of ownership of a cloud solution entails not just an actual monthly fee, but also other hidden costs. To begin with, estimate the costs of talents, maintenance, and updates.
It is better to examine the provider's refund policy or free trial offers. This will allow you to quickly pause the subscription without committing to anything. Additionally, public cloud providers often embed cloud cost calculators on their websites so that you can estimate the cost of your setup. Examples include the Google Cloud Pricing Calculator, Azure Pricing Calculator, and AWS Pricing Calculator.
4. Timing
After considering the costs, you have to adjust the time spent on cloud adaptation. If you have decided to buy a point solution, it will certainly lead to overhead refinement that postpone the due date. If you have chosen a public cloud, it is worth upfront checking how to migrate the company's applications and workloads to the cloud.
5. Architecture
Choosing a cloud platform, consider the ways to integrate its architecture into your workflows now and in the future. For instance, if your company has already purchased Microsoft corporate software, it might be reasonable to proceed with Microsoft Azure. If your organization relies more on Amazon or Google services, then it makes sense to select these vendors to ease consolidation.
6. Customer support
While customer support is rarely listed among important factors, there's no denying that you may need it. So, could you get it easily and quickly?
One cloud company offers a chat service or call center. Is this acceptable for you? Or do you need real time assistance from a dedicated team? Ask these questions before you choose a cloud provider.
Takeaways
On the whole, choosing a cloud provider for your company is not a one-step action. A company should assess a range of internal factors and existing cloud platforms to be certain about the choice in the long run. The cloud provider is expected to ensure security, available customer support, and integrability. However, these criteria vary from one vendor to another. Defining goals and resources will allow a buyer to execute cloud adoption without paying extra costs. We suggest considering our list of evaluation criteria before moving to the cloud.