Every business that has even the slightest intention of staying competitive strives to have an integrated view of its internal processes. To help optimize business processes, streamline operations and automate workflow forward-thinking companies rely on enterprise resource planning systems. Naturally, there is no one-size-fits-all solution that would be perfect fit for all industries combined. Business leaders often have to face the challenge of taking up ERP system development in-house or buying an out-of-the-box solution. 

Below we look at some of the general parts that make up an ERP system, as well as ERP software for Real Estate and Hospitality. Should you like to jump directly to the latter, click here.
What is an ERP?
An enterprise resource planning system is one type of business management software that integrates business applications to give users real-time data on key business resources, metrics and processes. As a rule, it connects the different components, or departments, of a business to make data-sharing easier and the overall workflow more efficient. 
Business executives are thus able to have the information they need at their fingertips in seconds, letting them focus on running and growing their business. Sharing such a wealth of data implies standardizing large volumes of data to ensure cross-compatibility.
Basic Components of an ERP System
Despite the fact that an ERP platform is an alliance of often independent systems, ERP software development best practices have labelled some of its inalienable components. 
These are the primary components of an ERP system: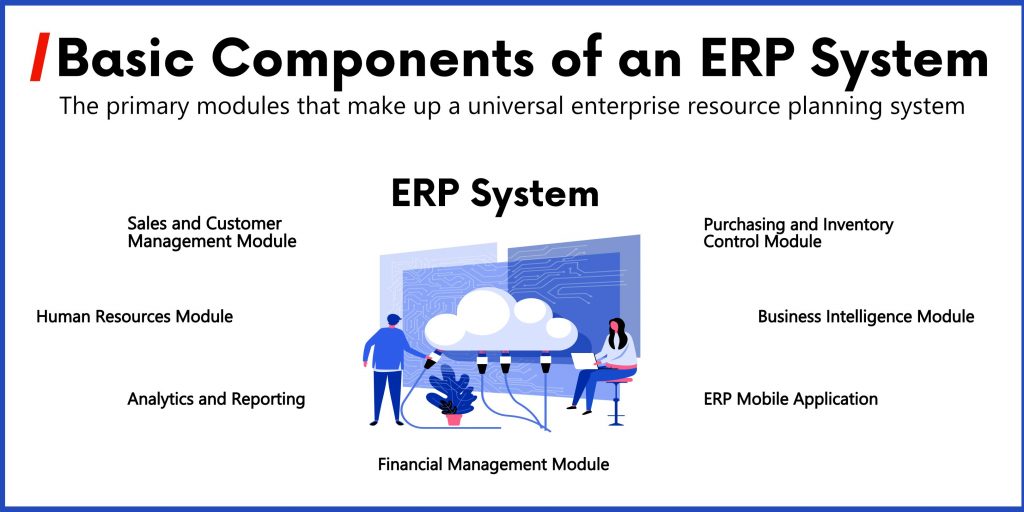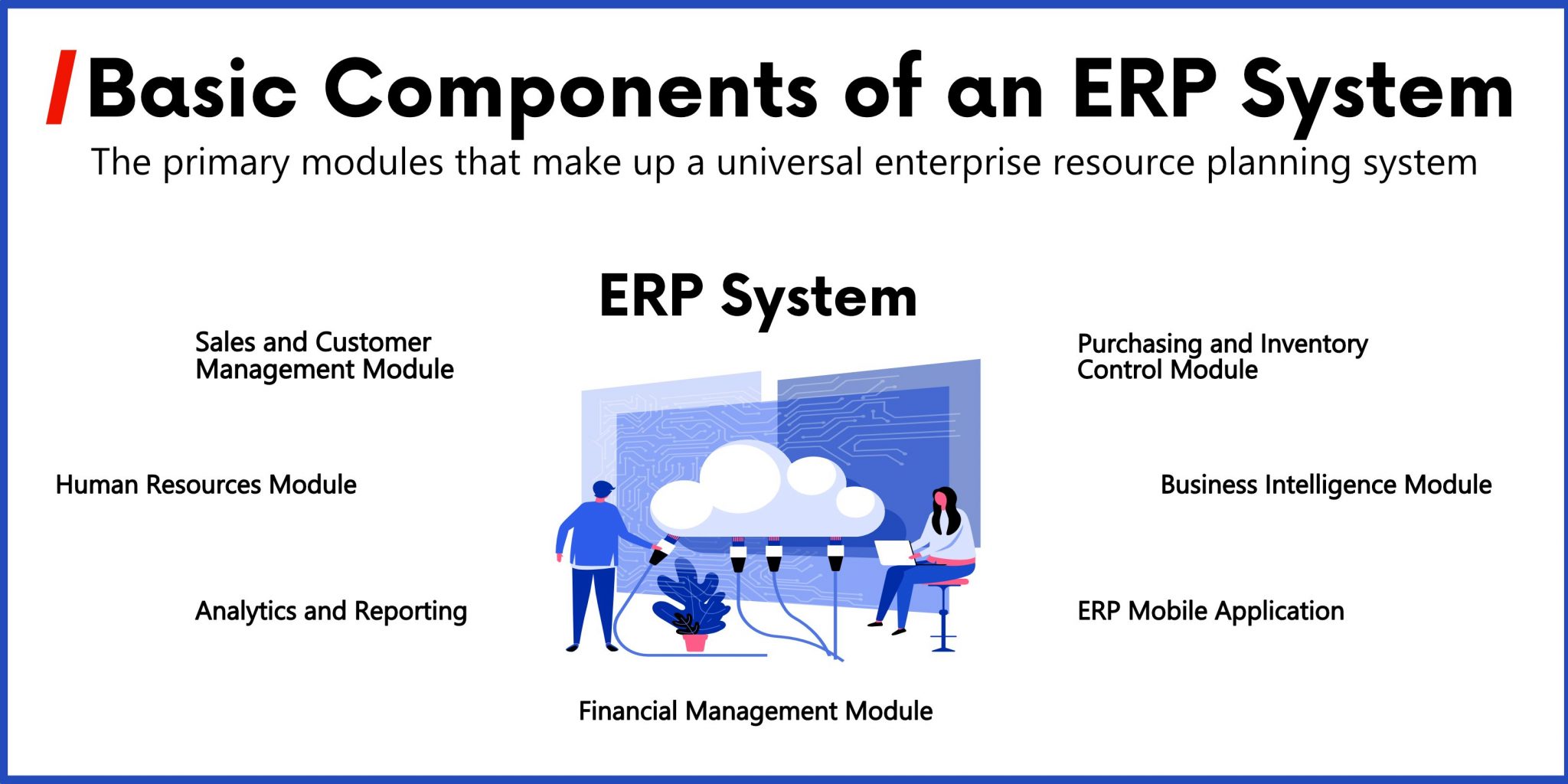 Financial Management Module
As the name of the module clearly hints at a link to Finances, this module is the tool that accounts for payables and receivables. In many ways, it serves as a general ledger (not to be confused with DLT) payroll, billing, taxation, and accounting management tool.
Sales and Customer Management Module
The sales and CRM module maintains records and details logged by sales representatives. It also helps them manage the entire sales pipeline (pre-sale, sale and post-sale), stores proposals, contracts and documents, and assists in conducting follow ups and even billing customers.
Production Planning Module
In vague terms this module is often described as one that manages procurement, production and distribution. For some businesses this can mean the acquisition of commodities, assets or, simply, units, that all pass through set steps in the supply chain. Such modules are usually employed by large enterprises, where several organizations play a role in processes.
Purchasing and Inventory Control Module
Purchasing and inventory often come bundled together, but can also form part of the Production Planning Module. It allows to track stock units and facilitates the making of purchase orders to build surplus or maintain a certain volume of goods.
Human Resources Module
A module that gives a 360 view of all personnel and staff at the given company or group of companies. Common use cases are recruitment, onboarding and training, sometimes also taking on payroll functions.
Business Intelligence Module
BI modules are often a collection of a data warehouse, data visualization and reporting tools. These instruments are used by analysts and managers to give insights into business performance and assist with data-driven decision making.
Analytics and Reporting Module
A module you simply cannot do without. Analytics lets managers build custom reports, organize data sets, derive insights and actionable advice, as well as visualize data to present findings to stakeholders or be used by the entire company for data-driven decision making.
ERP Mobile application
A great ERP comes packed with an integrated mobile application that gives users access on their mobile devices. Essentially, this makes sure that employees have what they need, when they need it.Enterprise Resource Planning System for Real Estate 
We decided to focus on a specific case for building a custom ERP system for the real estate business domain based on prior experience. Our client was Swiss lease and real estate management business that wanted to expand its custom system with a customer claims and backend admin dashboard. 
While there are several ready-made solutions in the software market when it comes to real estate, our client, who shall remain anonymous, chose to build from scratch and on-boarded Smart IT to expand on the module base.
The case gave great insights into the industry itself and helped outline the primary ERP modules for real estate:
Build vs Buy?
Out of the box ERP systems
Out-of-the-box, or OTB, solutions usually come packed with a defined set of features and can be contracted as a service. This means they will work on a monthly subscription basis, usually, but not always, based on the number of people using the system. There are many real estate software developers when it comes to choosing an OTB solution, especially on the customer relation management side.
In most cases, not all of the features that come with the bundle will fit the bill, when it comes to your specific business, in a given domain or industry.
Companies can start considering the purchase of an ERP, in the event that they are still figuring out the processes that govern their sphere of work or areas of responsibility. In other words, they are discovering the niche as they go along and are looking for a multi-purpose tool to pour all their data in and manage it in one 'basket'.
A subscription-based model basically means companies can stop using the software at the click of a button, should they transition to a more sophisticated solution or choose to build their own.
Custom ERP system development
A bespoke, tailor-made enterprise resource planning system, compared to an off-the-shelf system, will be customized to feature the functionale you want from the start. It will be configured to match and automate your company's or industry's business processes. In a nutshell, this will be a pure value product with none of the bells and whistles that 'sell' a standard ERP-as-a-service software.
At first glance, building your system in-house might sound like an easy task because you have a team that understands internal processes. In reality, developing an in-house ERP system can become a burden and cause extra stress to developers already involved in other activities. Of course, provided the company has spare software engineers for the task in the first place.
An alternative is to hire an outside team of developers to take up the job. A custom ERP will not come cheap, but increased efficiency and automation of business processes can significantly increase productivity and, hence, bottom line returns. 
SMBs often claim they cannot afford an investment into custom system development because short-term benefits are not immediately obvious. However, any company with an eye on staying in the game for the long-term will raise the question of implementing a company-wide business management system at one point or another.
A company on the lookout for custom software development should bear in mind that an ERP can be:
Customized and adapted from OTB solutions

Made up from individual tools and systems already used (ERP system integration)

Designed and built from scratch

Whatever the case, support and maintenance is a must.
Primary Business Benefits of an ERP System
Transparency
Keeping tabs and tracking the status of individuals processes and projects is hardly easy. An ERP system gives an exhaustive top-down view of all business activity at once. It helps define responsibilities and view work results across teams, departments and branches.
Decision-making
Businesses across the globe are relying on data to make intelligence-based and founded business decisions to power growth. Leverage business intelligence data to overcome shortcomings and play up strengths.
Productivity
Optimizing the supply chain, distributing tasks, improving the  customer satisfaction index — all this streamlines a company's workflow and helps focus on high-priority tasks that bring revenue and help the business grow.
Automation
By automating routine and menial tasks using technological tools, employees can really focus on work. Automation reduces or eliminates barriers that detract from work and allows people and processes to function as a well-oiled machine.
Communication
A unified system enables integrated communication between all agents. This is crucial in achieving desired results across the supply chain and adjacent departments. An integrated communications approach is key in ensuring the business operates as one.
Custom ERP System Development Checklist
To streamline your start, we have put together a basic process checklist. Follow these steps if you plan to contact a vendor to discuss custom ERP system development: